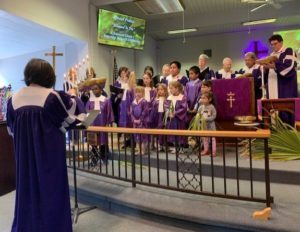 Praise and Worship
The worship service begins with a selection of praise and worship music.  We are always looking for vocalists and instrumentalists to help lead this portion of our worship.  
Chancel Choir 
Led by our Music Director, Linda Mazo.  The Chancel Choir sings a variety of music from the oldies but goodies to modern sounds.  The Chancel Choir participates in events like Christmas Sing A-longs, Cantatas and Broadways nights.  Rehearsal is on Wednesdays at 6:30 p.m. and on some Fridays at 6:30 p.m. for special events. 
HeartStrings
Led by Carol Bumgarner.  HeartStrings is a multi-generational choir that sings modern sounds.  HeartStrings presents musicals at Christmas, Easter and at the close of the school year.  In addition to voices and instrumentalists, this group could use your gifts of costume and backdrop design.  Rehearsals are after our Sunday Service at 10:30 a.m. and on Fridays at 6:30 p.m. for the musicals.
Children's Choir
The Children's Choir is being formed after a COVID hiatus.  At present, music is part of our Sunday School classes.  From time to time, the children are invited to sing and participate during our praise and worship on our Sunday services.
Instrumentalists
Instrumentalists are welcome to join as we form our praise and worship band.  Instrumentalists are also invited to offer special music and accompany our choirs.  
Live Nativity and Hymn Sing
This event occurs in December.  Persons of all ages are invited to play a part in the Live Nativity or to help lead attenders in the songs of the season.